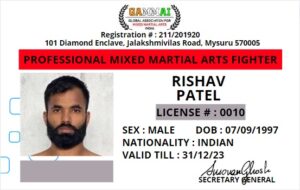 GAMMA-India has taken the initiative to license all Indian pro-fighters who fight at any GAMMA-India sanctioned event. This initiative has been taken keeping in mind that Professional MMA fighters have absolutely no proof of employment that they can show during situations like visa applications or admission in hospitals. A regulated license by a governing body for fighters will make these situations easier to handle. The other advantages of having a fighter license are:
Protection: A license can help protect professional fighters from injury and exploitation. GAMMA-India has rules and regulations in place that ensure that fighters are properly matched and that their fights are conducted in a safe and fair manner.
Professionalism: A license can help professional fighters project an image of professionalism. This can be important for fighters who are looking to promote themselves and attract sponsors.
Opportunities: A license means that the fighter is a part of a growing pool of athletes which will make it easier for Promoters to pick athletes for upcoming events.
NOTE: FOR A PRO-FIGHT TO BE SANCTIONED BY GAMMA-INDIA, IT IS ESSENTIAL FOR BOTH FIGHTERS TO HAVE A VALID LICENCE UNDER GAMMA-INDIA.
This License is given by GAMMA-India to the fighters at a fees of 500/- and is valid till the end of the year.
The current list of fighters licensed by GAMMA-India are as follows:
| NAME | LICENSE NUMBER | DATE OF BIRTH | WEIGHT CATEGORY |
| --- | --- | --- | --- |
| Gaganpal Singh Dua | 0001 | 27/01/1993 | +93 kg |
| Zaid Sayeed Shaikh | 0002 | 21/08/2000 | +93 kg |
| Rehan Lulla | 0005 | 01/03/1999 | 66 kg |
| Phanjouam Niranjan Singh | 0006 | 28/11/2000 | 66 kg |
| Shiv Kumar | 0007 | 1990 | |
| Nishant Giridhar Karkera | 0008 | 28/01/2003 | 66 kg |
| Jeko Laishram | 0009 | 26/04/2006 | 56.7 kg |
| Prashant Patel | 0010 | 31/03/1999 | 56.7 kg |
| Kerobin Tudu | 0011 | 26/01/1998 | 52.2 kg |
| Thirubalachandran D | 0012 | 05/07/1999 | 61.2 kg |
| Goutam Moyong | 0013 | 05/06/1993 | 56.7 kg |
| Prathamesh Kenjale | 0014 | 2004 | 52.2 kg |
| Mohan Gorle | 0015 | 21/08/1999 | 66 kg |
| Mukul Anand | 0016 | 15/06/1999 | |
| Savar Basarimarad | 0017 | 15/12/2002 | |
| Karan Chauhan | 0018 | 08/11/1998 | |
| Kimson Tony | 0019 | | |
| | | | |
| | | | |